Where the shortgrass prairie drops into the Red River Valley, the 4R Ranch—with its magnificent vistas and rocky terrain—is perfectly suited for growing grapes. Patriarch W.C. Roper encouraged his family of sixth-generation Texans to share the beauty of this extraordinary place with others; and so it was love of this man and love of the land that inspired 4R Ranch Vineyards & Winery. Chinquapin oaks, white-tailed deer, the endangered black-capped vireo, and the occasional Rio Grande turkey inhabit this incredible property. Powered by sun, earth and wind, 4R Ranch Vineyards & Winery calls us all to slow our pace, enjoy the view, and sip a glass of wine in the magnificent Red River Valley.
---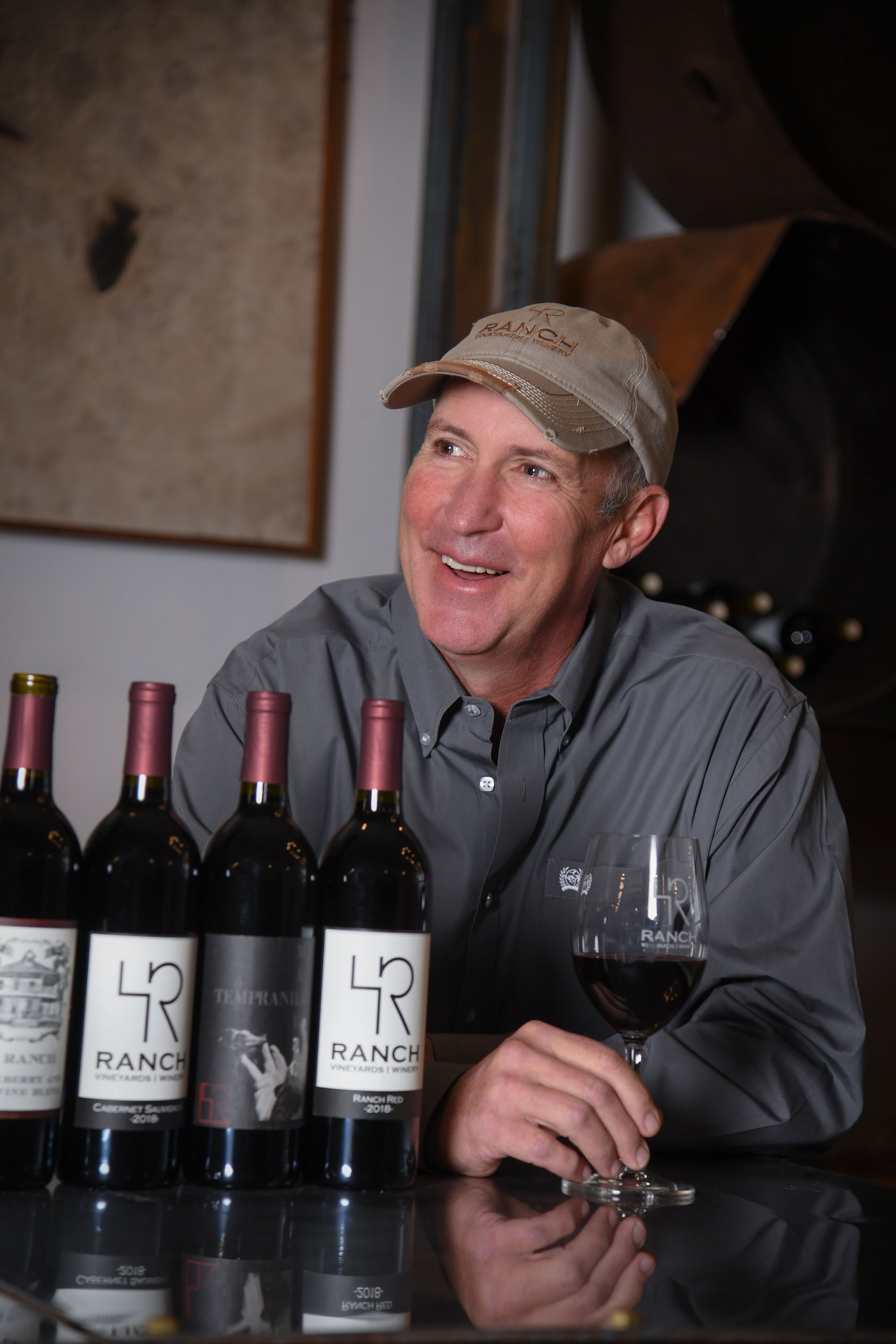 "Anthony Mosley is known throughout the Texas wine industry as the winemaker's winemaker. Most recently employed at a custom crush facility in the Texas Panhandle, he has provided sage advice and consulting to many Texas wineries and helped them win numerous awards," remarked Walt Roper, co-owner. "Anthony is eager to focus his considerable talents on one brand, and looks forward to make the North Texas Hill Country his home. 4R Ranch is delighted to team up with this legendary Texas wineslinger."
Mosley, whose experience also includes senior winemaker at Caprock Winery/English-Newsom Cellars, winemaker at Landry Vineyards and winemaker at Homestead Winery, is looking forward to partnering with the Roper family at their three-year old award-winning winery.
---

The Wind Shed Tasting Room and Deck
The Wind Shed Tasting Room, which takes its name from the strong breezes that power the wind turbines on the property, is the perfect place to relax, unwind and enjoy 4R wines. The Wind Shed's cantilevered deck offers 270-degree views of the breathtaking Red River Valley. The Wind Shed tasting menu features estate wines produced from the Viognier and Cabernet Sauvignon vineyards on the ranch, as well as a collection of white, rosé and red wines produced from carefully sourced grapes to please many palates.
The Barnhaus
This historic hay barn—now our wine production building—has been restored and retrofitted with solar panels and geothermal heating and cooling. With its beautiful and open interior, The BarnHaus is not only a modern winemaking facility but also a special event space perfect for weddings and memorable events. The East Crush pad—dappled with sunlight and shade created by frameless, glass-encased Lumos solar panels, and flanked by a large lawn—is the perfect location for wedding ceremonies, receptions and social gatherings. A private bridal room with vanity, mirrors, dressing screens and Wi-Fi service next to a large women's powder room provides the perfect pre-event space for the bride-to-be and her bridal party. The central alley of The BarnHaus, framed by original tall timber beams and stainless steel wine tanks, can be outfitted with long harvest tables and rustic elegant décor to provide an intimate and climate-controlled setting. Large sliding clear corrugated doors can be closed to create a more intimate space for smaller events. The adjoining lawn will accommodate a large tent.
The Endres/Dangelmayr House
Built in 1904 by Werner Endres, this three-story residence was moved to 4R Ranch from the property of Bishop Augustine Wenzelaus Dangelmayr, the first native Texan to be appointed a bishop to serve his native diocese. Bishop Dangelmayr founded several Catholic schools in Dallas, including St. Monica, Christ the King and Saint Rita, the school that members of the Roper family presently attend. This wooden home is an excellent example of turn of the century vernacular architecture found on the Texas prairie. Surrounded by Cabernet Sauvignon vineyards, the house serves as a private residence for the Roper family and as an outdoor wedding ceremony and event site.
The Cleo House
To the south of the Endres/Dangelmayr House, overlooking a pond and flanked by Cabernet Sauvignon vineyards, sits the Cleo House. This house gets its name from Dr. Walter Cleo "W.C." Roper, a dentist from Waco, Texas. W.C. purchased the 4R Ranch in 1992 with his wife Suzanne and two sons, Walt and Chris, the owners of 4R Ranch Vineyards & Winery. Today the Cleo House serves as a private residence for the Roper family and is available as an outdoor wedding ceremony and event site.
The Gasthaus
At the entrance to 4R Ranch is a small house perfect for weekend rentals and families of brides and grooms marrying on the property. The three-bedroom, two-bath home features a full kitchen and living room with television, phone and Wi-Fi. An outdoor sitting area and herb garden are perfect for taking in the beautiful views of the vineyards and Camp Creek or relaxing after Germanfest or Oktoberfest in Muenster. The house also has a laundry room with a full-size washer and dryer.
For availability and pricing on the 4R GastHaus and special events, please email info@4Rwines.com